Conway Lodge No. 65 is a regular constituted Masonic Lodge operating under the jurisdiction of the MW Grand Lodge of Ancient Free Masons of South Carolina. We are located at 903 15th Avenue, Conway, South Carolina. Our stated Communication is held on the second Monday of the month beginning with dinner at 6:45 p.m. Special Communications are scheduled as needed and members are notified by email and/or phone tree. We welcome all Master Masons who hold a current dues receipt card from lodges in jurisdictions recognized by the MW Grand Lodge of SC.
This website approved by the Grand Lodge of Ancient Free Masons of South Carolina, MW Brother Michael D. Smith, Grand Master
Official website of Conway Lodge No. 65, Ancient Free Masons - copyright 2017-2020

Click on image for information about becoming a member
Site last updated at 8:20 a.m., July 11, 2018





COMING EVENTS

STATED COMMUNICATION
Monday
July 9, 2019
Dinner 6:45 pm
Lodge 7:30 pm

Twenty-Ninth Masonic District
Masters Wardens Club
Monday
July 16, 2018
Socastee Lodge No. 421
Dinner @ 7:30 pm
Meeting @ 8:00 pm

903 15th Avenue
Conway, South Carolina
CONWAY LODGE NO. 65
aNCIeNT FREE MASONS





Waccamaw Chapter 89, OES meets here on the second Thursday of each month. Collation is at 6:30 and the chapter opens at 7:30. OES members in good standing from recognized jurisdictions are always welcome.



David Beckworth, PM
Worshipful Master
GRAND LODGE FUNDRAISER
Magnet or window decal
Click here for details.
Funds go to disaster relief.
Available from SC Dept of Motor Vehicles. Membership verification required. Ancient Free Masons license plates are $30.00 every two years in addition to the registration fee.
Applicant must present a current dues card from the Grand Lodge of Ancient Free Masons of SC.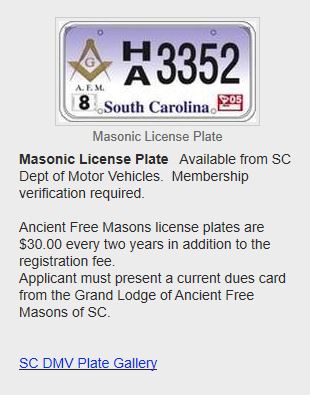 MASONIC LICENSE PLATE
CONGRATULATIONS
to
Brother Billy Carroll
of
Conway Lodge No. 65, A.F.M.
on being appointed
DISTRICT DEPUTY GRAND MASTER
of
The Twenty Ninth Masonic District


MOUNTAIN TRIP PLANNED

for
November 16-18, 2018

Click on image or here for more information

RW Bro. Billy Carroll, DDGM presents Brothers Johnny Allen and Edward Allen their 50-Year Awards from the MW Grand Lodge of SC at a ceremony held at our stated Communication on July 9, 2018. Joining them is Bro. Johnny Allen's son, W. Bro. Brett Allen, PM.
FIFTY YEARS OF FAITHFUL SERVICE